Fitzroya cupressoides
Cupressaceae
A genus with a single species endemic to Argentina and Chile where it is globally threatened by selective logging, grazing and fire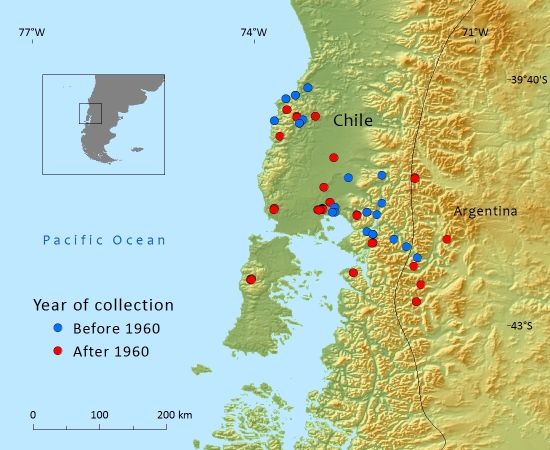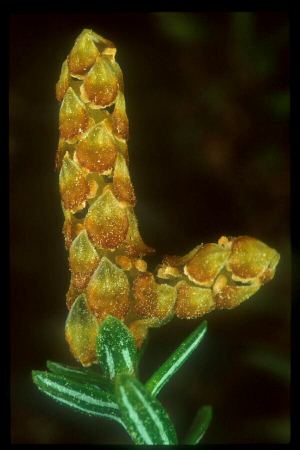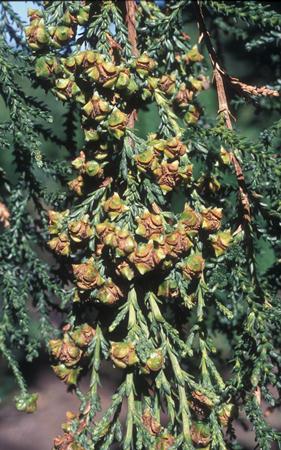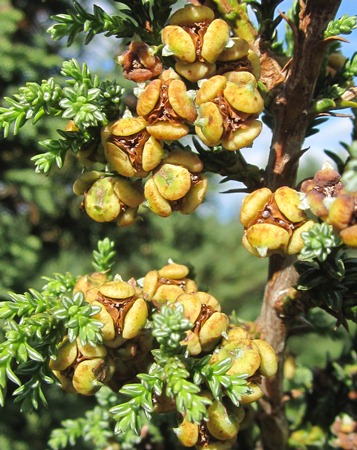 Description
Habit
Large evergreen tree to 50m, dioecious or rarely monoecious; pyramidal or sometimes stunted into low shrubs at high elevations. Trunk 2.5–5m in diameter; bark brownish red, deeply furrowed, fibrous.
Foliage
Leaves arranged in alternating whorls of three, rarely in twos or fours, deep green or glaucous, of two types: i) on mature branches 2.5–3mm long, scale-like, ovate, tightly imbricate, keeled and with a narrow decurrent base ii) on immature branches spathulate 5–8mm long, falcate and flattened. Stomata arranged in bands near the margin and keel, on both surfaces of the leaf.
Cones
Male pollen-cones terminal, solitary on short axillary branches, 6–8mm long, yellowish white.8mm long, yellowish white. Female seed-cones globose, 6–8mm, solitary, terminal on short lateral shoots, green at first, maturing brown with 6–8 woody scales in alternating whorls of 3, each scale with a prominent umbo. Seeds 2–3mm in diameter, each with 2–3 wings; maturing from February to March.
Key characters
Fitzroya could be confused with Pilgerodendron uviferum. In Fitzroya the leaves are usually arranged in alternating whorls and are of two types: scale-like and strongly keeled on mature branches, falcate and flattened on immature branches. All leaves have two obvious white stomatal bands on the underside. In Pilgerodendron the leaves are regularly arranged in decussate pairs, incurved, triangular and keeled on the back.
Human Uses
Despite national and international legal protection, particularly in Chile, its timber has continued to be exploited and this is reflected in the fact that during 1977–1996 the export value of alerce timber reached an average of US $865,000 (Díaz et al.,1997). Logging permits are issued for timber declared to originate from trees that died prior to 1976 when alerce was declared a National Monument and the cutting of live tres prohibited. Determining the date of death can be problematic and there have been many instances of fires being deliberately set in forests in the Chilean Andes and Coastal ranges in order to produce more dead timber for harvesting (Lara et al., 2003; Wolodarsky & Lara, 2005).