Araucaria rulei
Araucariaceae
One of 13 species of Araucaria endemic to New Caledonia (Grande Terre) where it has suffered a severe decline due to nickel mining and associated activities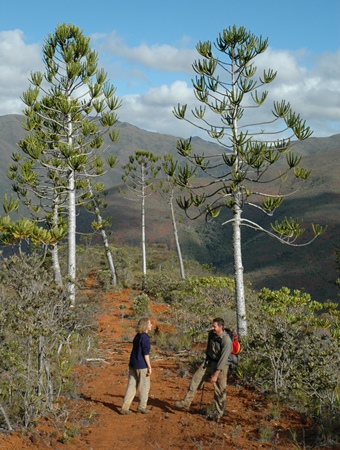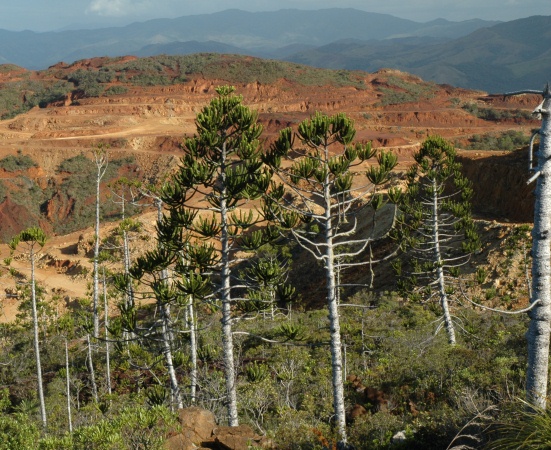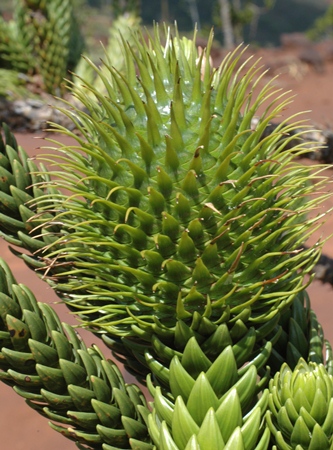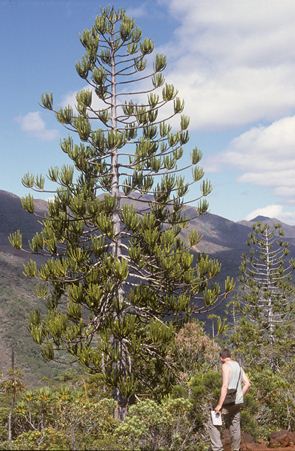 Description
Habit
A monoecious tree up to 25m tall, with a d.b.h. up to 0.8m when fully mature; pyramidal when young and developing a very distinct open, candelabriform crown as it matures. Bark thick, light grey to almost white, often peeling in horizontal plates.
Foliage
Adult leaves lanceolate to ovate with an acute apex, 1–2.5 x 1–2cm, upper surface glossy, stomata confined to near the base. Foliage clustered on small branches at the end of primary branches.
Cones
Female seed-cones borne terminally on very short branches; mature cones broadly ovoid, up to 12cm long; bracts with a prominent tip; cones ripening January and February. Male pollen-cones terminal, 8–25cm long; maturing from July to August.
Key characters
Araucaria rulei resembles A. muelleri in its candelabriform crown with long, laxly arranged horizontally spreading primary branches always in whorls of 4, and very pale, almost white bark. The smaller leaves and denser phyllotaxis (usually 6 leaves visible per half-spiral) distinguishes A. rulei from A. muelleri; A. rulei also has a glossy upper surface to the adult leaves which almost lack stomata except for very near the base.