Araucaria muelleri
Araucariaceae
One of 13 species of Araucaria endemic to New Caledonia where it has a restricted distribution and has become Endangered due to mining and fire.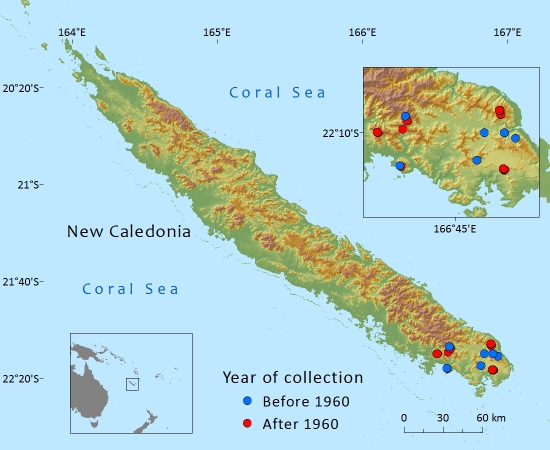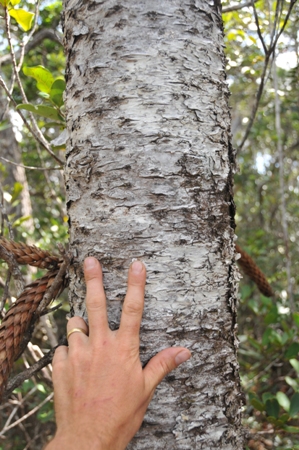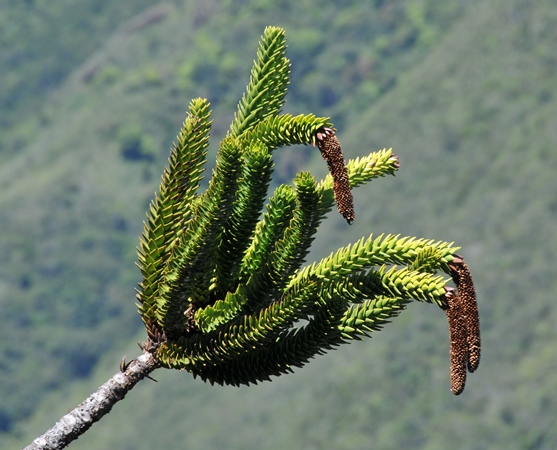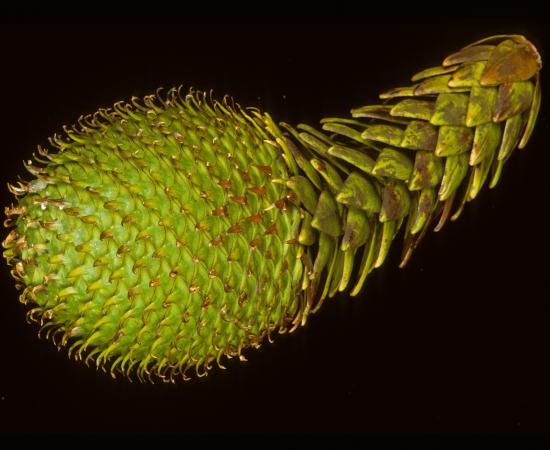 Description
Habit
A monoecious tree up to 20m tall, with a d.b.h. up to 0.8m at maturity. Pyramidal when young and developing a very distinct open, candelabriform crown as it matures. The thick bark is light grey or reddish-grey, often almost white, peeling in horizontal plates.
Foliage
Adult leaves lanceolate to ovate with an obtuse apex, 2–3 x 1–2cm.
Cones
Male pollen-cones terminal, up to 25cm long, mature early July (variant with lustrous leaves), or in September to December (typical form). Female seed-cones terminal on very short branches, mature cones broadly ovoid, up to 15cm long; bracts with prominent long tips. Young female cones appear in October, mature cones appear in March.
Key characters
A. muelleri has the largest adult leaves of any New Caledonian Araucaria species (up to 35mm in length). The stomata on the underside of adult leaves are numerous and scattered along the length. The almost white bark, the trunk with lax, long, horizontally spreading primary branches always in whorls of 4, and the candelabra-shaped crown also distinguish this species. In certain parts of its range (e.g. Goro Plateau and Mamie) a variant occurs that only has a few stomata at the base of the adult leaves so that it resembles a very large leafed A. rulei.