Araucaria araucana
Araucariaceae
Endemic to southern Argentina and Chile where it mainly occurs in the Andes. Threats include fire, grazing and encroachment from commercial plantations of exotic species.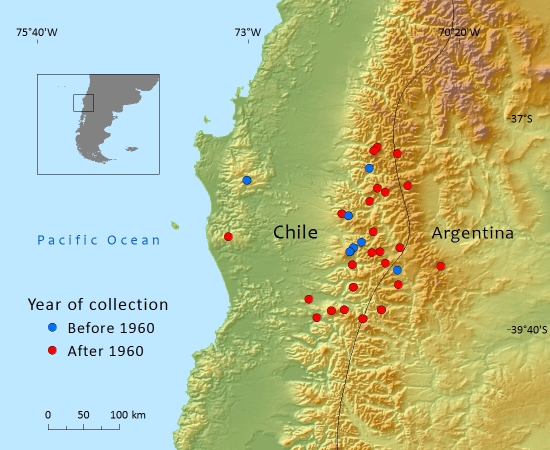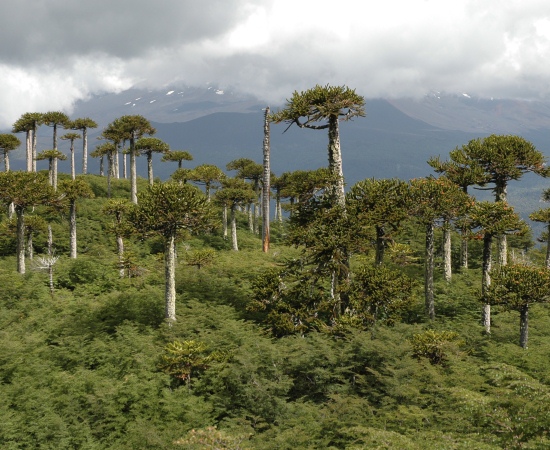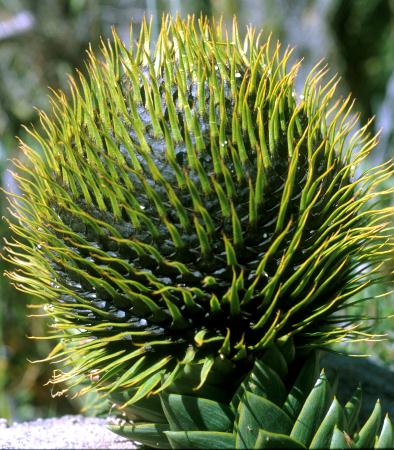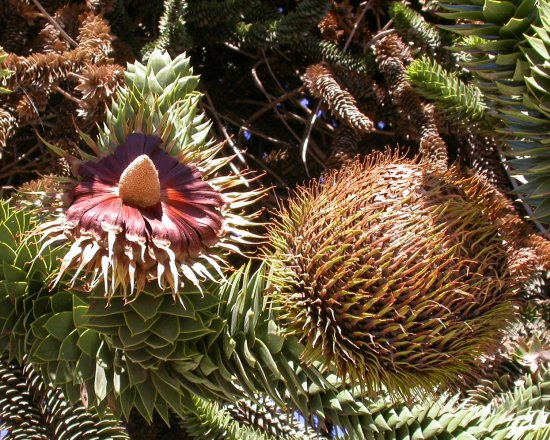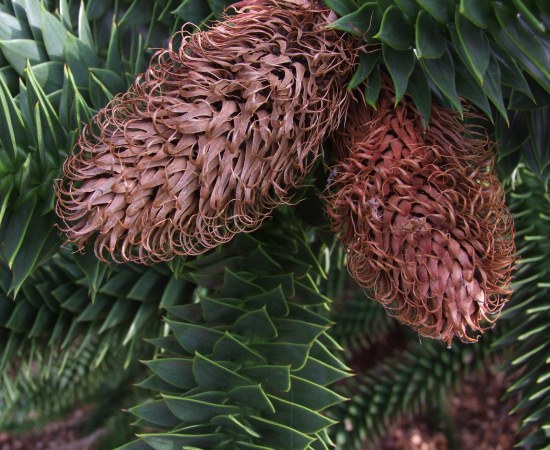 Description
Habit
Dioecious tree (rarely monecious) up to 50m tall; trunk to 2m in diameter; crown broadly pyramidal. Bark grey, usually deeply fissured and forming hexagonal plates. Branches vertical, horizontal or swept downwards, often restricted to the upper part of tree.
Foliage
Leaves 2.5-3 x 1.5–2cm, ovate-lanceolate, base broad, apex sharply pointed, sessile, coriaceous, rigid.
Cones
Male pollen-cones 8–12 x 4–5cm. Female seed-cones 15–20cm across, globose. Seeds 4-5 x 1.5cm, obconical-oblong or cuneiform, slightly compressed, with a large apical appendage, mid brown, 120–180 per cone; maturing from February to April (cones taking two years to mature).
Human Uses
Araucaria araucana has light, soft, medium-weight wood which is used for lumber, flooring, paper pulp and ship-masts (Delmastro & Donoso 1983). Due to its listing on Appendix I of CITES there is no legal international trade in the timber; currently there is only local use in Argentina and Chile. The seeds are very rich in carbohydrates and proteins and were once an essential part of the diet of the indigenous people; the seeds are boiled or roasted, and their taste is similar to that of chestnuts. Today, the seeds are still eaten by local inhabitants, both the indigenous people and settlers. It is also highly prized as an ornamental tree in Europe (especially throughout Great Britain) and in parts of North America.